Legal Counsels Law Office Dr Piotr Nazaruk
Legal Counsels Law Office Dr Piotr Nazaruk
The law office has been established in 2006 by Piotr Nazaruk, who in subsequent years of conducting of individual legal practice, had been improving his qualifications by becoming a legal counsel and by being awarded the academic degree of Doctor of Law in the field of civil law. Currently, the law firm provides a legal assistance in the form of Piotr Nazaruk Law Office – permanently cooperating with group of legal counsels. The law office has its headquarters in Warsaw and offices in Gdansk and London.
The law office has established its position on the legal market as an entity providing permanent legal services for entrepreneurs and specialist advice within the scope of civil and commercial law with particular focus on banking activities and  financial instruments.  The strength of our team, led by Piotr Nazaruk, is combination of highly-specialist knowledge (certified by academic degrees) with longstanding legal and managerial practice. It enables us to provide our clients with optimal solutions, taking into account both legal and business aspects.
The Law Office permanently cooperates with foreign lawyers and economic advisers conducting their professional activities in countries of the Western Europe and People's Republic of China. The Law Office assures the legal aid for foreign entrepreneurs which comprise comprehensive handling of all cases pending on the territory of Poland and legal aid for Polish entrepreneurs abroad. We possess strong experience in handling international projects and a knowledge of not only a British and Chinese law, but also the business culture of Anglo Saxon and Far East countries. The services for foreign clients comprise foreign language legal services for clients conducting or intending to conduct their activities in Poland, especially for importers or exporters and capital investors from United Kingdom and People's Republic of China. Services for Polish clients compose Polish language legal services for entrepreneurs conducting or intending to conduct business activity abroad (especially in the United Kingdom and People's Republic of China). We provide for importers and exporters verification of foreign trade partners and comprehensive service of international commercial transactions.
In February,  2018 he Law Office has concluded the Agreement on permanent cooperation with Consulting Corporation 厦门法务贸易中心 ("Xiamen Legal and Business Centre Limited") with headquarters in People's Republic of China. The Corporation is the official representative of the Law Office in China and coordinates comprehensive support for Polish-Chinese business ventures (see more at: www.xiamenlbc.com).
Our Law Office's mission is: EFFECTIVE LEGAL ASSISTANCE BASED ON ACADEMIC INTEGRITY
Our Team
Our team is composed of:
Managing Partner – legal counsel dr  PIOTR  NAZARUK
Partners – the group of leading legal counsels from Warsaw and Tricity (Gdansk, Gdynia, Sopot)
Experts – professors and doctors of legal studies
Lawyers –  legal counsel trainees, doctoral students and foreign lawyers ( China and England )
All cases entrusted to the Law Office are conducted with direct supervision by Managing Partner, who is responsible for contact with clients and coordination of activities performed by Partners and other lawyers.
The Law Office's team members conduct their legal practice in offices in the biggest cities in Poland, in the countries of Western Europe and People's Republic of China. We provide legal assistance in Polish, English, German, French and Chinese.
The composition of Our Team assures the competency for comprehensive legal assistance concerning all branches of law, for big corporate clients as well as for individual clients. We constitute perfectly organized Team of competent lawyers who perform their work with passion and whose knowledge, academic competencies, experience and professional standards guarantee individual approach, personal engagement and effectiveness in action.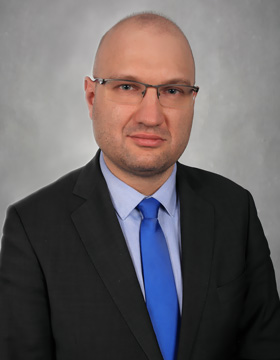 dr Piotr Nazaruk
Legal Counsel
Managing Partner
tel. + 48 501 832 596
Piotr Nazaruk
Legal counsel, Doctor of Law in Civil Law (2013), graduate of full-time law studies on Gdansk University (2004), graduate of postgraduate studies PRE-Master of Business Administration (2007) and numerous practical courses in the matter of law, finance and management. He speaks English.
Since 2006 conducts own legal practice, which currently operates under the name: Kancelaria Radców Prawnych Dr Piotr Nazaruk, with its registered seat in Warsaw. Furthermore, for many years he has been permanently cooperating with renowned law offices, including advising of Counsel one of the biggest Polish law offices specializing in providing legal assistance for foreign investors. . In the years 2004-2019, management board and supervisory board member for several corporations and foundation. In the years 2015-2019 government expert. Since 2009 is a mediator and arbitrator, i.a. permanent arbitrator in Lewiatan Court of Arbitration in Warsaw.
He combines his legal practice with employment at universities, since 2005 as a lecturer and 2014 as an assistant professor. Since 2016 he has been an assistant professor at the European School of Law and Administration in Warsaw (giving lectures in Warsaw, London and Brussels departments) (www.ewspa.edu.pl). Since 2018 he is a leader of Business and Commercial Law Department at the European School of Law and Administration in Warsaw.
The legal practice and academic activity of legal counsel dr Piotr Nazaruk concentrates on matters of civil law and commercial law including: commercial companies, arbitration, banking activities and financial instruments. Above mentioned is proven by numerous academic publications in that matter, i.a.
1) doctoral thesis: "Arbitration Clause Concerning Disputes Arising from Issues Related to Joint-stock Companies" (2013)
2) Commentaries i.a.: Acts in law, Defects in the declaration of intent, Contract of leasing, Loan, Bank account, Company, Remittance and securities [in:] "Civil Code. Commentary", ed. J. Ciszewski, P. Nazaruk, Wolters Kluwer / SIP LEX (2019);
3) publications, including: "Impact of corporate governance rules on the powers of supervisory boards of joint-stock companies in European Union countries" (2005), "Problematic aspects of classifying the provisions of a limited liability company agreement based on the legal nature" (2014) and analysis cycle regarding credit agreements denominated and indexed to the CHF currency (2018);
4) papers at law conferences, including: "The problematic aspects of invalidity of loan agreements indexed to the CHF currency" (2017).
In addition he gives TV interviews i.a. regarding loans in CHF (http://www.vimeo.com/224196189) and mediation (https://vimeo.com/238055298) and arbitration (https://vimeo.com/243072859)
Services
The Law Office ensures legal assistance including:
providing advice and consultancy within all areas of law
drawing legal opinions and expert appraisals concerning specific areas of law
drafting agreements, corporate acts and other legal documents
representation in negotiations, mediations, and arbitration proceedings
representations in all kinds of courts including the Supreme Court
representation in proceedings before all kinds of administrative bodies
coprehensive legal services for entrepreneurs, including foreign entrepreneurs
The Law Office provides its service within following areas of law:
Civil law
Commercial law
Banking law and financial market's law
Public Commercial law
In respective cases, the Law Office renders its legal service through electronic  means of communication (i.a. phone, e-mail, remote data, teleconference, Skype), provided that the agreed remuneration has been paid. Abovementioned forms of communication are standard solutions for permanent clients of the Law Office.
The Law Office's remuneration is adjusted to specific, complexity and character of given services and people who perform them. The Law Office's remuneration is calculated as a product of time expended on performing given service and the hourly rate agreed with client. On the client's request, there could be agreed a maximum amount of remuneration or adequate lump sum remuneration. The Law Office gives a discount for clients who pay the remuneration in advance and who commission further services.
Law Office Specializations
Our law firm specializes in:
expert consultancy in the field of civil and commercial law
legal assistance for clients of banks, including for parties to loan agreements in CHF
comprehensive legal services for Polish and foreign entrepreneurs, in particular for commercial companies
We solve the most difficult practical problems in the field of civil and commercial law – at the highest academic level. We provide comprehensive consultancy services related to the implementation of all types of business ventures. We are successful in handling the most complex investment projects, commercial transactions and companies restructuring. We prepare legal and expert opinions, and we conduct precedential cases before common courts and arbitration courts as well as before the Supreme Court.
Our team has unique qualifications and experience in the following areas:
Banking, securities and financial instruments
Commercial contracts in domestic and international trade

Legal services for companies and corporate governance advisory

Due diligence, Handling Investment and M&A (mergers and acquisitions) transactions
Arbitration, negotiations and mediation with entrepreneurs and public entities
Litigations and verification of judicial expertise in civil and criminal cases
Legal services for entities from the transport and logistics industry (T&L)
Advisory services for public institutions including Ministry of Economy
Legal advice on economic cooperation with People's Republic of China
The Law Office in particular offers services concerning::
representation of borrowers in court disputes with banks regarding the undermining of loan agreements  in CHF
legal services in China, in particular: companies and trademarks registration; debt collection
Cooperation with the Law Institute Dr Piotr Nazaruk & Eksperci
The Law Office together with Legal Institute Dr Piotr Nazaruk & Experts organizes open and closed trainings. Open trainings cover the issues of civil, commercial and public economic law, with particular emphasis on: commercial companies, commercial contracts, banking activities, arbitration and mediation. The trainings are conducted by the Partners of the Law Office and Experts of Legal Institute – doctors and professors of law with many years of practice in providing services to entrepreneurs. Our trainings are addressed primarily to entrepreneurs, managerial staff and employees of trade departments and lawyers.
Trainings take place in Warsaw (Złote Tarasy Complex – 50 m from the Warsaw Central Railway Station), in Gdańsk (Gdańsk Science and Technology Park) and in other cities in Poland and abroad, pointed by clients. Trainings are conducted for groups of 8 to 20 students. The basic offer includes training: a) one-day (6-8 hours), b) two-day (from 12-16 hours) and three-day (from 18-24 hours). We provide participants with comprehensive services, including all-day catering, accommodation in hotels at the training site and additional attractions, according to individual wishes.
Kancelaria Radców Prawnych Dr Piotr Nazaruk
www:
Kancelaria.PNazaruk.pl
e-mail: Kancelaria@PNazaruk.pl,
Office in Warsaw:
* * * * *
PL, 00-120 Warsaw, 59 Złota Street (Złote Tarasy –Office Building Lumen 6th floor)
e-mail: bok.kancelaria@pnazaruk.pl, phone: +48 22 308 0260
PL NIP: 9570890596, Account number: 63 1160 2202 0000 0003 5930 3966 (IBAN: PL, SWIFT: BIGBPLPW)
Office in Gdansk:
PL, 80-172 Gdansk, 3 Trzy Lipy Street (Gdansk Science and Technology Park)
phone: +48 58 580 5062, e-mail: kancelaria@pnazaruk.pl
Office in London (the United Kingdom)
UK, London EC1V 2NX, 152-160 City Road (City of London), e-mail: kancelaria@pnazaruk.pl,
phone: +44 7496 827 154 (service provided in English, German and Chinese)
Representative Office in Fujian Province (People's Republic of China)
厦门 法 务 贸易 中心
("Xiamen Legal and Business Center Limited")
China, Funjian Province, Xiamen, 8 / F International Plaza, 8 Lujiang Road
e-mail: kancelaria@pnazaruk.pl, Skype: Law Office Nazaruk, www.xiamenlbc.com
tel. +86 18850 514 752 (service in Chinese, English and Polish)
The meetings in our offices are held only after prior agreement – through phone or e-mail correspondence