Legal Counsels Law Office Prof. Dr. Piotr Nazaruk
Legal Counsels Law Office Prof. Dr. Piotr Nazaruk
The Law Office has been established in 2006 by Piotr Nazaruk. Currently, the law firm provides a legal assistance in the form of Piotr Nazaruk Law Office – permanently cooperating with group of legal counsels. The law office has its headquarters in Warsaw and office in Gdansk.
The Law Office has established its position on the legal market as an entity providing permanent legal services for entrepreneurs and specialist advice within the scope of civil and commercial law with particular focus on banking activities and  financial instruments.  
The Law Office for several years closely specializes in legal services for Clients who have entered into loan agreements denominated / indexed to foreign currencies.
The strength of our team, led by Piotr Nazaruk, is combination of highly-specialist knowledge (certified by academic degrees) with longstanding legal and managerial practice. It enables us to provide our clients with optimal solutions, taking into account both legal and business aspects.
Since 2018 the Law Office permanently cooperates with foreign lawyers and economic advisers conducting their professional activities in  People's Republic of China.
Our Law Office's mission is: EFFECTIVE LEGAL ASSISTANCE BASED ON ACADEMIC INTEGRITY
Our Team
Zespół Kancelarii składa się z następujących osób:
Partner Zarządzający  –  radca prawny  prof. ucz. dr  PIOTR  NAZARUK
Partnerzy – radcowie prawni
Eksperci – profesorowie i doktorzy nauk prawnych
Prawnicy – aplikanci radcowscy
Realizacja wszystkich spraw powierzonych Kancelarii jest bezpośrednio nadzorowana przez Partnera Zarządzającego, który odpowiada za kontakt z klientami oraz za koordynację czynności wykonywanych przez pozostałych członków Zespołu Kancelarii.
Członkowie Zespołu Kancelarii prowadzą swoją praktykę prawniczą w największych miastach w Polsce oraz w Chińskiej Republice Ludowej. Zapewniamy obsługę prawną w języku polskim i angielskim.
Skład Zespołu Kancelarii zapewnia możliwość kompleksowej obsługi prawnej, zarówno dużym Klientom korporacyjnym, jak też Klientom indywidualnym. Stanowimy doskonale zorganizowany Zespół kompetentnych i pełnych pasji prawników, których wiedza, naukowe kwalifikacje, doświadczenie i standardy zawodowe, gwarantują indywidualne podejście, osobiste zaangażowanie i skuteczność w działaniu.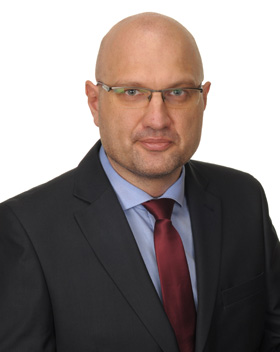 Prof. ucz. dr Piotr Nazaruk
Legal Counsel
Managing Partner
tel. + 48 501 832 596
Piotr Nazaruk
Legal counsel, Professor and Doctor of Law in Civil Law (2013), graduate of full-time law studies on Gdansk University (2004), graduate of postgraduate studies PRE-Master of Business Administration (2007) and numerous practical courses in the matter of law, finance and management. He speaks English.
Since 2006 conducts own legal practice, which currently operates under the name: Kancelaria Radców Prawnych Prof. ucz. dr Piotr Nazaruk, with its registered seat in Warsaw. Furthermore, for many years he has been permanently cooperating with renowned law offices, including advising of Counsel one of the biggest Polish law offices specializing in providing legal assistance for foreign investors. . In the years 2004-2019, management board and supervisory board member for several corporations and foundation. In the years 2015-2019 government expert. He is court mediator and arbitrator, i.a. permanent arbitrator in Lewiatan Court of Arbitration in Warsaw.
He combines his legal practice with employment at universities: since 2005 as a lecturer, since 2014 as assistance professor and 2020 as an associate professor. Since 2016 he has been an employee at the European School of Law and Administration in Warsaw (giving lectures in Warsaw, London and Brussels departments) (www.ewspa.edu.pl). Since 2018 he is a leader of Business and Commercial Law Department at the European School of Law and Administration in Warsaw.
The legal practice and academic activity of legal counsel Prof. dr. Piotr Nazaruk concentrates on matters of civil law and commercial law including: banking activities and financial instruments. Above mentioned is proven by numerous academic publications in that matter, i.a. 1) doctoral thesis: "Arbitration Clause Concerning Disputes Arising from Issues Related to Joint-stock Companies" (2013); 2) Commentaries i.a.: Acts in law, Defects in the declaration of intent, Contract of leasing, Loan, Bank account, Company, Remittance and securities [in:] "Civil Code. Commentary", ed. J. Ciszewski, P. Nazaruk, Wolters Kluwer / SIP LEX (2019); 3) publications, including: "Impact of corporate governance rules on the powers of supervisory boards of joint-stock companies in European Union countries" (2005) and "Problematic aspects of classifying the provisions of a limited liability company agreement based on the legal nature" (2014); 4) law conferences, including: "The problematic aspects of invalidity of loan agreements indexed to the CHF currency" (2017). In addition he gives TV interviews i.a. regarding loans in CHF (http://www.vimeo.com/224196189), mediation (https://vimeo.com/238055298) and arbitration (https://vimeo.com/243072859)
Services
The Law Office ensures legal assistance including:
providing advice and consultancy concerning specific areas of law
drawing legal opinions and expert appraisals concerning specific areas of law
drafting agreements, corporate acts and other legal documents
representation in negotiations, mediations, and arbitration proceedings
representations in all kinds of courts including the Supreme Court
coprehensive legal services for entrepreneurs, including foreign entrepreneurs
The Law Office provides its service within following areas of law:
Civil law
Commercial law
Banking law and financial market's law
Public Commercial law
In respective cases, the Law Office renders its legal service through electronic  means of communication (i.a. phone, e-mail, remote data, teleconference, Skype), provided that the agreed remuneration has been paid. Abovementioned forms of communication are standard solutions for permanent clients of the Law Office.
The Law Office's remuneration is adjusted to specific, complexity and character of given services and people who perform them. The Law Office's remuneration is calculated as a product of time expended on performing given service and the hourly rate agreed with client. On the client's request, there could be agreed a maximum amount of remuneration or adequate lump sum remuneration. The Law Office gives a discount for clients who pay the remuneration in advance and who commission further services.
Law Office Specializations
Kancelaria specjalizuje się w:
pomocy prawnej dla klientów banków, które oferowały tzw. kredyty w CHF (tzw. Frankowiczów) i kredyty złotowe powiązane z WIBOR
doradztwie eksperckim z zakresu prawa cywilnego, handlowego i bankowego
Rozwiązujemy najtrudniejsze problemy praktyczne z zakresu prawa cywilnego, handlowego i bankowego – na najwyższym poziomie naukowym. Zapewniamy kompleksowe usługi doradcze związane z realizacją wszelkiego rodzaju przedsięwzięć gospodarczych.  Sporządzamy opinie i ekspertyzy prawne oraz prowadzimy sprawy precedensowe przed sądami powszechnymi i sądami arbitrażowymi oraz przed Sądem Najwyższym.
Zespół Kancelarii posiada unikatowe kwalifikacje i doświadczenie w następujących obszarach:
Czynności bankowe i instrumenty finansowe (zob. szerzej: Kredyty w CHF)
Spory sądowe w sprawach przeciwko bankom
Kontrakty handlowe w obrocie krajowym i międzynarodowym oraz inne umowy
Obsługa spółek kapitałowych i doradztwo korporacyjne (corporate governance)
Badania due diligence oraz obsługa inwestycji i transakcji przejęć spółek (M&A)
Windykacje, egzekucje oraz postępowania upadłościowe i restrukturyzacyjne
Obrót nieruchomościami, działalność deweloperska oraz inwestycje budowlane
Maritime law and the functioning of seaports
Sądownictwo arbitrażowe oraz negocjacje i mediacje z przedsiębiorcami i bankami
Prawo morskie i funkcjonowanie portów morskich
Doradztwo dla instytucji publicznych, w tym Ministerstw właściwych dla spraw gospodarki
Doradztwo dotyczące współpracy gospodarczej z Chińską Republiką Ludową ( Chiny )
The Law Office in particular offers services concerning::
representation of borrowers in court disputes with banks regarding the undermining of loan agreements  in CHF
legal services in China, in particular: companies and trademarks registration; debt collection
Legal Counsels Law Office Prof. Dr. Piotr Nazaruk
www:
Kancelaria.PNazaruk.pl
e-mail: Kancelaria@PNazaruk.pl,
Office in Warsaw:
PL, 02-496 Warszawa, 4/17 Władysława Hermana Street
e-mail: kancelaria@pnazaruk.pl, phone: +48 22 308 0260
PL NIP: 9570890596, Account number: 63 1160 2202 0000 0003 5930 3966 (IBAN: PL, SWIFT: BIGBPLPW)
Branch in Warsaw:
PL, 00-120 Warsaw, 59 Złota Street - Lumen 6th floor
e-mail: kancelaria@pnazaruk.pl,  tel. +48 22 308 0260
Office in Gdansk:
PL, 80-855 Gdańsk, 1/1508 Wały Piastowskie Street
phone: +48 22 308 0260, e-mail: kancelaria@pnazaruk.pl
Administration:
Managing Partner: Legal counsel Prof. Dr. Piotr  Nazaruk
phone: +48 22 308 02 60, e-mail: kancelaria@pnazaruk.pl
The meetings in our offices are held only after prior agreement – through phone or e-mail correspondence